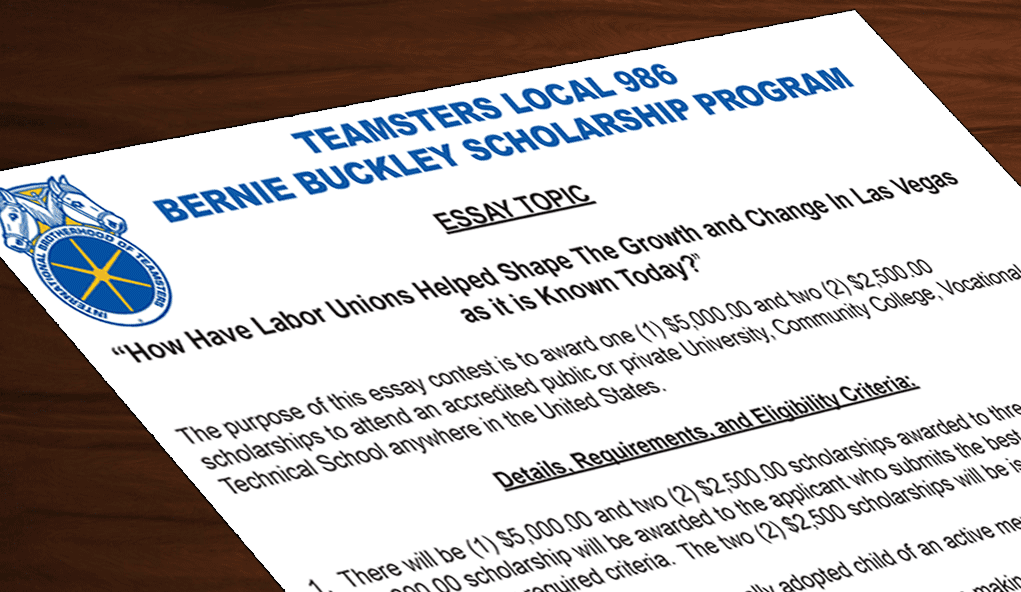 ESSAY TOPIC
"How Have Labor Unions Helped Shape The Growth and Change In Las Vegas as it is Known Today?"
The purpose of this essay contest is to award one (1) $5,000.00 and two (2) $2,500.00 scholarships to attend an accredited public or private University, Community College, Vocational or Technical School anywhere in the United States.
Details, Requirements, and Eligibility Criteria:
There will be (1) $5,000.00 and two (2) $2,500.00 scholarships awarded to three students. The $5,000.00 scholarship will be awarded to the applicant who submits the best essay and meets all of the other required criteria. The two (2) $2,500 scholarships will be issued to the two next best essays received.
Applicants must be a natural or legally adopted child of an active member in good standing of Teamsters Local 986.
Applicants must be graduating high school seniors when making application.
A copy of the high school transcript including grade point average and a statement of career goals must accompany the application.
Applications are available at www.local986.org or may be picked up at the Teamsters Local 986 offices, which are located at 300 Shadow Lane, Las Vegas, NV 89106.
All applications must be accompanied by a written essay, 1,000 words minimum, on the subject designated by this application, "How Have Labor Unions Helped Shape the Growth and Change in Las Vegas as it is Known Today?"
Essays should be submitted on 8 ½" by 11" paper, one-sided, preferably typed or printed and double-spaced, with applicants signature and date at the conclusion of the essay.
Applications must be accompanied by a pocket-sized photograph of the applicant.
Applications must be hand-delivered or mailed by registered or certified mail only and received at the Teamsters Local 986 offices no later than February 1st of each calendar year.

Teamsters Local 986 Scholarship Review Committee
300 Shadow Lane, Las Vegas, NV 89106
The Scholarship Committee will review all applications to assure that all eligibility criteria and requirements have been met.
Failure on the part of the applicant to meet any of the above-stated rules will subject the applicant to disqualification by the Committee.
Essays will be reviewed by the Committee.
Scholarships will be awarded after acceptance to school of applicant's choice and proof of that acceptance is delivered to the Union offices.
Notification will be sent by way of U.S. Postal Service to all applicants concerning the status of their application once the winners have been selected.