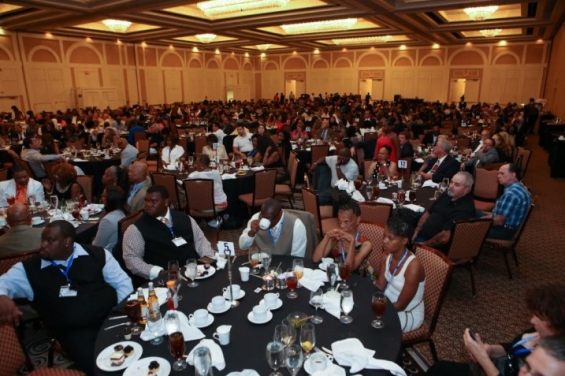 The last day of the Teamsters National Black Caucus (TNBC) Conference began with an inspirational sermon by Dr. D. Edward Chaney, Pastor of Second Baptist Church.

Pastor Chaney encouraged the hundreds of Teamsters in attendance to not get tired. No matter what they may be going through on the job or in life, to just keep going, and to not give up. "Teamsters right now, we need to sow good seeds, we need to learn how to sow into each other," Pastor Chaney said.

The evening of the last day was a moment to celebrate and honor those who participated in this year's conference. Two new TNBC chapters were welcomed into the caucus this year with more than 300 new members between them. There was a multitude of newcomers and a majority of them acknowledged how educational the conference was. Many were returning home to share what they learned with their family, friends and co-workers.

Steve Vairma, International Vice President, Secretary-Treasurer of Local 455 in Denver, President of Joint Council 3 and Western Region Director for the Teamsters Warehouse Division, was presented with the TNBC Pioneer Leadership Award. "You're here because you're a leader," Vairma said. "It's what you take from here and what you bring home that really matters."

Ron Herrera, International Vice President, Secretary-Treasurer of Local 396, Executive Director of the National Hispanic Caucus and Trustee of Joint Council 42, received the TNBC Pathfinder's Award at this year's conference. "I made a promise that when I became principal officer, that we would participate, contribute and be a force with the TNBC," Herrera said. "We must continue reaching out and educating."

Chris Griswold, Secretary-Treasurer of Local 986, was presented with the TNBC Humanitarian Leadership Award. Griswold spoke about the importance of voting, stressing the fact that people died for the right to vote and there are still too many who don't do it.

Eric Tate, the first African-American Secretary-Treasurer of Local 848, was presented with TNBC Trailblazer Award. Tate, who has a great deal of support from his members, helped organize more than 400 port truck drivers in recent years. Tom Hyde was also recognized for being one of the first black business representatives, hired by Chris Griswold's father.

A party was held after the reception in honor of Edith Arnold, a member of Teamsters Local 848, who passed away at this year's conference.