Show Schedule
Please note - This schedule has the most up to date information available based on the information supplied, but in no way should it be construed as a complete list. Shows and show schedules are subject to change. Check with dispatch for any recent updates or unlisted events
Show Schedule for
Trade Shows and Convention Centers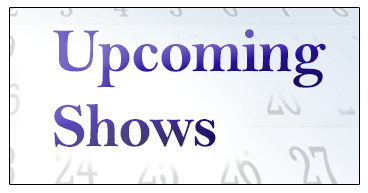 Click here to download the page for printing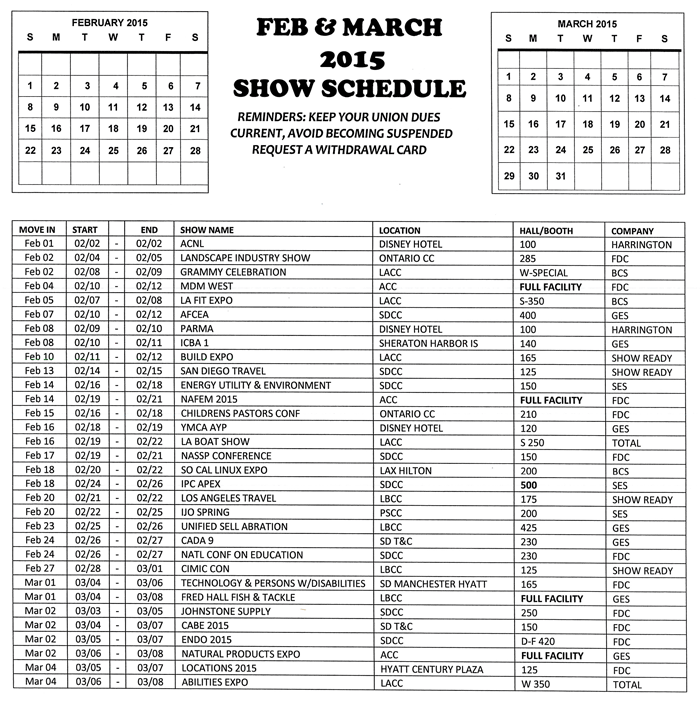 CHECK YOUR UNION DUES RECEIPT, ARE YOU PAID CURRENT?
DO YOU WANT TO INQUIRE ABOUT YOUR UNION DUES STATUS?
DO WE HAVE YOUR CORRECT ADDRESS & PHONE NUMBER?
KEEP YOUR UNION DUES CURRENT! AVOID BECOMING SUSPENDED
IF NO LONGER WORKING, REQUEST FOR A WITHDRAWAL CARD
IF ANY QUESTIONS, PLEASE CALL "GLORIA "(626) 350-9860 Ext 111
UNION DUES ARE DUE AND PAYABLE BY THE 20TH OF EACH MONTH
"A's" is $68.00 "B's" and "C's" is $58.00
Companies
Labor Dispatchers
Labor Lines-Phone Numbers
BLAINE CONVENTION SERVICES (BCS)
JIM SOWMA
(714) 522-8270 ext 241
CALIFORNIA SHOW FREIGHT (CSF) - (NEXXT)
MARK MCCOMB
(714) 983-2736
FREEMAN DECORATING COMPANY (FDC)
BOBBIE DURHAM
(714) 254-3402
GES EXPO SERVICES (GES)
JASON ROSIER/KIM SMITH
(562) 804-5529
INNOVATIVE EXPOSITION (INN)
GENERIC MESSAGES
(760) 343-2555
SHEPARD EXPO SERVICE (SES)
JOSE QUIJADA
(909) 212-7247
SHOW READY
RICK TESSICINI
(909) 258-4543
TOTAL EXPO
GEORGE JONES
(562) 691-1984
FOR MORE INFORMATION REGARDING CONVENTION CLASSES PLEASE CALL (626)569-54I9 OR E-MAIL tradeshowforklift@gmail.com THIS LIST IS PROVIDED BY THE LOCAL BASED ON THE MOST CURRENT INFORMATION FROM THE EMPLOYER
Dispatch Numbers Location Information
Please remember to notify the employer of your availability to work by 1:30 pm of the preceding day of the work assignment, Monday through Friday.