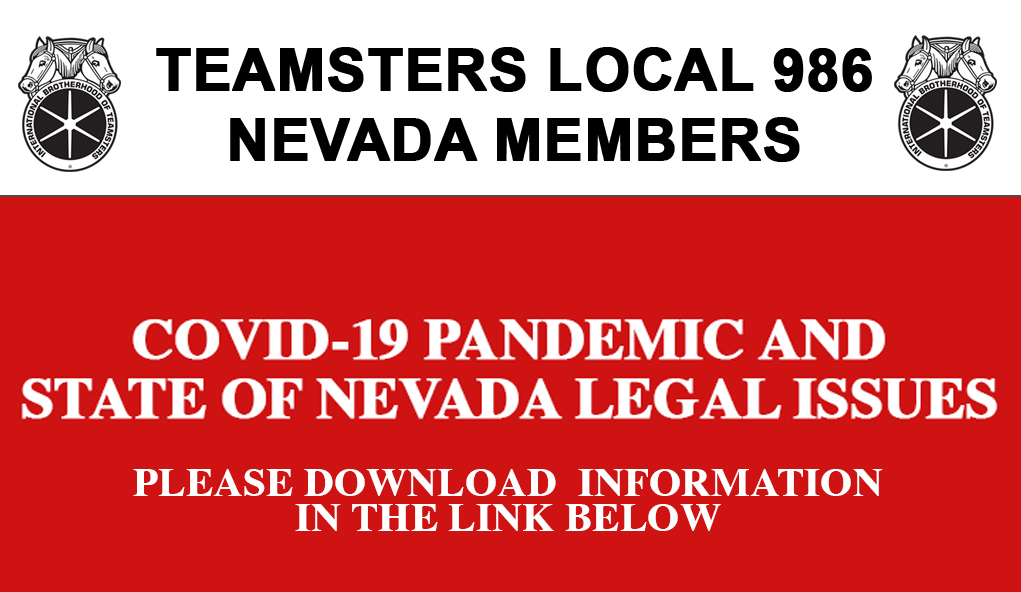 COVID-19 Pandemic & State of Nevada Legal Issues
In this time of global crisis, we wanted you to know that the Teamsters Union has been working on your behalf to mitigate the loss of income and benefits as we endure these unprecedented times.
First of all, we have been notified today that the Teamsters Security Fund -Hotel and Casino Workers Trust Fund has approved the request from Teamsters Local 986 to grant an extension of benefits to any employee covered by the plan who was laid off or had their hours reduced as a result of the COVID-19 Pandemic until the end of June 2020.
Every member of Teamsters Local 986 who was laid off or reduced hours has been automatically placed on the Out of Work List which will make you eligible to receive your Unemployment Benefits. There is no need to come into the office to complete any forms. DO NOT WAIT!!! You should file immediately/or your Unemployment Benefits.
To assist you with additional. information on unemployment and other benefits potentially available to Nevada (NV) employees, please go to our website at www.local986.org.
Please call our office if you have any questions concerning the benefits addressed in the memorandum or have any employment related COVID-19 questions.