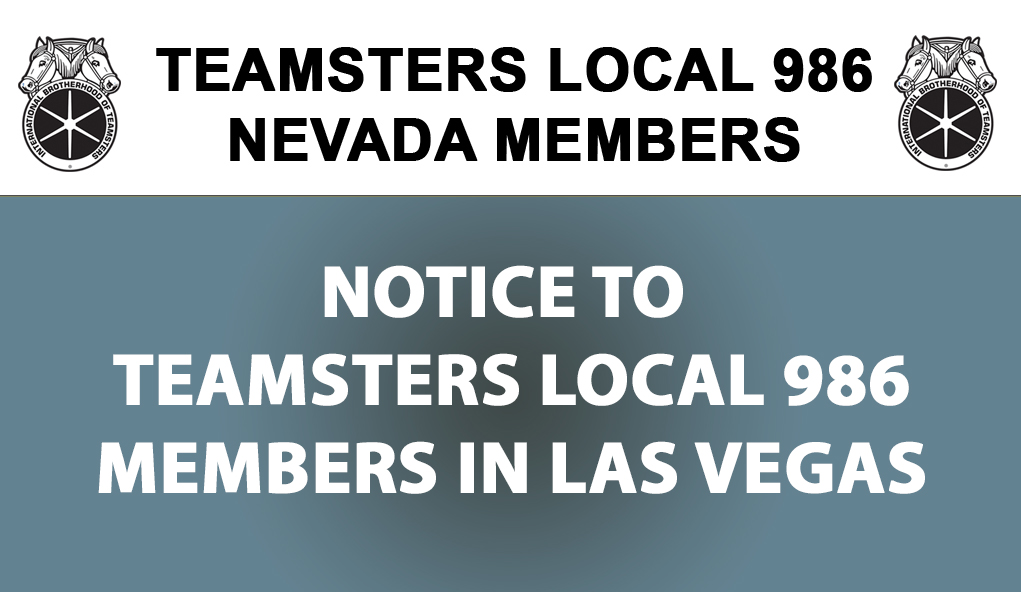 Most of our members in Las Vegas are out of work with the shutdown of the Casinos. Over the past few weeks, we have been working hard to secure food resources for our members who are in need during this difficult time.
Recently, Teamsters Locals 14, 631 and 986 were able to gain access to some food for the members in the three locals in Las Vegas.
The following procedure has been arranged for Teamsters Local 986 members to have access to food through ULAN (United Labor Agency of Nevada). 
If you are a member who is out of work and are in need of food assistance, please contact your Business Agent. The Business Agent will verify membership and will notify you of the date and time of when you can pick up food at ULAN. 
ULAN
1201 N. Decatur Blvd, Suite 106
Las Vegas, NV 89108
Please do not show up at ULAN without a verified time and date of pickup. We need to schedule pickup times to protect our members health and safety, as well as the volunteers at ULAN. It is also important to follow the schedule to help prevent violating social distancing guidelines and gathering of group guidelines that could shut down ULAN.
There is a limited amount of food so we need to give assistance to those members that need it the most right now. Some members may have small amounts of food or no food at all. 
If you need food assistance, do not hesitate to call your Business Agent at (702) 385-0995 or send an email to: info@teamsters986.org
Let's work together to make sure that everyone has enough food for their families to make it through this global health crisis.