Over 220 workers at Ducommun AeroStructures in Monrovia, CA have asked Teamsters Local 986 to be their exclusive bargaining representative.
They are tired of the poor representation that is being provided to them by the IAM. Local 986 currently represents about fifteen employees at Ducommun AeroStructures and the rest of the workers want a union that will provide quality representation and negotiate a strong contract. The organizing committee has done an outstanding job of communicating a positive message to their co-workers, while the IAM has resorted to deceitful trickery, threats and intimidation. Now, the company has hired some union busters that have failed miserably with their attempt to engage in an anti-union campaign. These are proud union members that expect and deserve a union that will fight for them. These members have signed a petition to inform the company that they will be voting for the Teamsters on April 3rd and asking the company to cease their anti-union campaign and save their money and give it to the workers with their next contract that will be negotiated by the Teamsters.
We are union….We are Teamsters!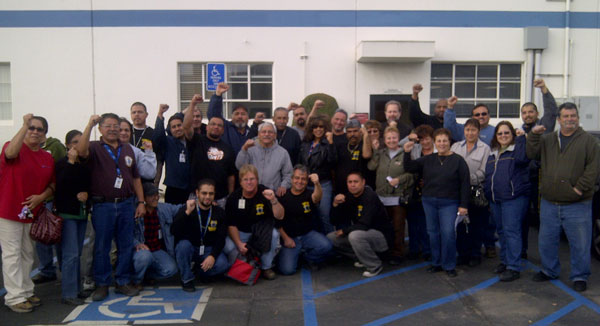 An election for choosing their collective bargaining representative will be overseen by the National Labor Relations Board on April 3rd, 2012